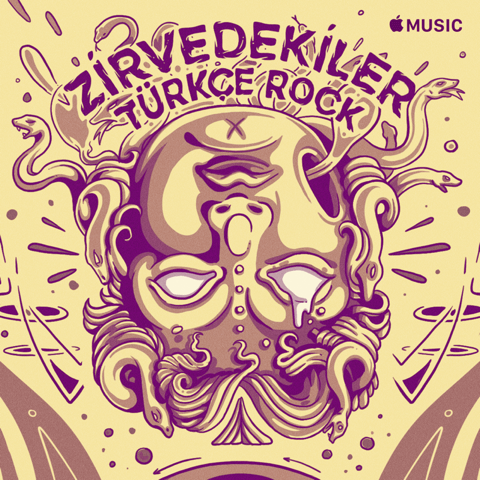 I was born in Istanbul. I studied Graphic Arts in the Faculty of Fine Arts, in Marmara University. I started my professional career by drawing and writing caricatures for humour magazines which were managed by Oğuz Aral, who was a world-famous master illustrator.
Besides, I had created designs and illustrations for major advertising agencies and brands located in Turkey and worldwide. In addition to this, I had worked with reputable publishers in the USA, Singapore, the UK, the Netherlands, and Turkey.
Currently, I'm designing T-shirts for one of the biggest textile companies in my home country and please feel free to contact me for illustrations, collaborative projects or exhibitions.


Clients I've worked with:
Apple Music, Spotify, Green Day, Warner Music, Apple, Red Bull, Nike, Coca-Cola, Star Wars -Disney Türkiye, The Famous Grouse, Converse, Wacom, Vestel, Ülker, İş Bankası, Efes Pilsen, Tuborg, Sütaş, Burn.
Mail me at: bsenturk@gmail.com
Exhibitions
 
2019 FEARZ by KRÜW Screenprint Exhibition @Big Baboli Şarküteri / İstanbul (Group Exhibition)
2019 FLASHBACK by KRUW - Screenprint Exhibition @ICAF / Ortakoy Orphanage / İstanbul (Group Exhibition) 
2019 Dream Gigs illustrated @ICAF / Ortakoy Orphanage / İstanbul (Group Exhibition
2019 CIFT SAYFA - IPad Pro Exhibition @BINA / BantMag Havuz / İstanbul (Group Exhibition)
2019 MASALZ by KRÜW Screenprint Exhibition @Mamut Art Project / İstanbul (Group Exhibition)
2018 GAMEZ by KRÜW Exhibition @W U N D E R / İstanbul (Group Exhibition)
2018 Art of B-Movies: The Remake Exhibition @Red Bull Music Festival Istanbul / İstanbul (Group Exhibition)
2018 MYTHZ by KRÜW Screenprint Exhibition @Mamut Art Project / İstanbul (Group Exhibition)
2018 illüstratörler Sergisi @Dada Salon Gallery / İstanbul (Group Exhibition)
2017 STAR WARS Custom Helmet Exhibition @Beşiktaş JK Müzesi / İstanbul (Group Exhibition)
2017 FLAGZ by KRÜW Exhibition @Kolektif House / İstanbul (Group Exhibition)
2017 IKONZ by KRÜW Screenprint Exhibition @Mamut Art Project / İstanbul (Group Exhibition)
2017 VS by KRÜW Exhibition @BantMagHavuz / İstanbul (Group Exhibition)
2016 KRÜW 35 PLAKA Screenprint Exhibition by KRÜW @Originn / Izmir (Group Exhibition)
2016 CANAVARZ Screenprint Exhibition by KRÜW @KargArt / Istanbul (Group Exhibition)

2016 Villainz Screenprint Exhibition by KRÜW @Kolektif House / Istanbul (Group Exhibition)

2016 BIKEART.gr EXHIBITION, @Volos, Thessaloniki - Athens - Texnopoli / Greece (Group Exhibition)

2016 The Night is Young with Caran D'ache @Pera64 / Istanbul (Group Exhibition)

2016 Değiş Tokuş Sergi @Ada Sanat / Istanbul (Group Exhibition)

2016 90z Screenprint Exhibition by KRÜW @Tilki / Ankara (Group Exhibition)

2016 Illustration Vol:1 @Karbon Gallery / Istanbul (Group Exhibition)

2016 90z Screenprint Exhibition by KRÜW @Hypstore / Istanbul (Group Exhibition)

2016 #kargamecmua100 - Mecmua Kapakları Sergisi @ kargART  / Istanbul (Group Exhibition)

2015 Contemporary Istanbul - Milk Gallery / Istanbul

2015 Istanbul Coffee Festival - Milk Gallery @Haydarpaşa Train Station / Istanbul (Group Exhibition)

2014 Mediterranean Salt // - Carbon Blue collective @Urban Spree / Berlin (Group Exhibition)

2014 Contemporary Istanbul - Milk Gallery / Istanbul

2014 "Yok Artık!" Solo Show @Milk Gallery & Design Store / Istanbul 

2012 Year Of The Dragon @ Milk Gallery & Design Store / Istanbul (Group Exhibition)

2011 İkametgah Kadıköy @ kargArt / Istanbul (Group Exhibition)
Seminar & Workshop

2020 "Kampüste Reklam Var" Anadolu Üniversitesi / Eskişehir
2019 "Hangi Brush?" Söyleşi - ICAF @Feriye Sineması
2019 Feyz - "BAŞKA" / Tasarım Kulübü - Petoye / Eskişehir
2019 Bahar Buluşmaları - Anadolu Üniversitesi Grafik Tasarım Bölümü / Eskişehir
2018 4. Istanbul Tasarım Bienali - Yeditepe Üniversitesi Design Talks - Pera Müzesi Oditoryumu
2018 Feyz - "Şimdi Burada" / Tasarım Kulübü - Petoye / Eskişehir
2018 Türkiye'de illüstrasyon ve yeni yaklaşımlar - Beykent Üniversitesi 4. Sanat Günleri
2017 Çizer Konuşmaları No:8 - Bantmag - Havuz @Bina
2017 Dribbble Meetup - Atölye İstanbul
2016 Digital Illustration - Yeditepe University Fine Art Faculty
2015 Behance Portfolio Review - İstanbul Özyegin University
2015 Transferring creativity into design -Yeni Yüzyıl University Fine Art Faculty
2015 Evolution of the idea and its transformation into design -
 Eskişehir Anadolu University Fine Art Faculty Animation Lab / Wacom
2014 Bubble It! -Social Entrepreneurship Stories - Salt Galata / Istanbul
2014 Behance Portfolio Review - İstanbul Bahçeşehir University
2014 Freelance Designer Meeting - Portfolio Sunumu - Tasarım Atölyesi Kadıköy (TAK)
2014 Progression of Creativity and its immediate transformation into design - 
İzmir Economy University , Think Id Club / Wacom
2014 Progression of Creativity and its immediate transformation into design -
 Eskişehir Anadolu University, Design Club / Wacom