Dream Gigs Illustrated is a series of gig posters by an ever growing group of artists. Imaginary gigs that never happened, missed gigs because of time and place, gigs that are experienced first hand and have left their mark... It's up to the artist to decide. The possibilities are endless.
Bülent Gültek, David Bowie @ Eternia
When I first heard about the project, I wanted to design a poster for a gig that's not on this world. A concert on the moon, on Mars or on some other planet. I started thinking about a gig that is free from Earth calendar or time. So I decided to work on the He-Man concept, which I always wanted to draw but never had the opportunity to work in detail. I decided to set Eternos, the capital of Eternia, as the venue. He-Man was a powerful series with its own universe that combined several concepts. I think it has been affecting my work with its colour palette recently.
For this special gig, intergalactic rock star Ziggy Stardust was the perfect name. David Bowie always pushed the limits, supported his music with other art forms and presented it within certain concepts. With Ziggy, his fame spread to outer space. I thought it would be fun to combine these two strong images to create a gig poster. Apart from that, the chemistry between Ziggy and Eternia really motivated me. He was an alien on Earth, but there… he was home.
In the designing process, I needed some information about Eternia's history because the date had to be in accordance with the Eternian calendar. Eternia has two satellites, Bright Moon and Dark Moon. I couldn't find any information about the calendar system but I found that, the cartoon series was taking place between 2996-2998. So I set the concert date on the 12th day of Bright Moon, year 2997. Ziggy probably played or will play this gig, in the seventies, as part of an interstellar tour of his.
Burak Beceren, Radiohead @ Basilica Cistern
At first, I was planning to go with the concept of a more surreal venue with a musician/band that's no longer with us. Like Pink Floyd playing on the dark side of the moon or The Tea Party, joined by Jim Morrison, in the interzone (a place from William Burroughs' Naked Lunch).
But the idea of bringing Radiohead, one of the bands that I've been waiting to see live for a long time, to Basilica Cistern with an acoustic set… that stroke me as a fantasy that could become real. I did my share with this poster and sent out a message to the universe. It's up to the universe to take it seriously or not.
To the folks who are not familiar with the figures on the poster, I recommend the video for Paranoid Android.
Dilara Özden, Grimes @ Kilburn High Road St.
I love Grimes because she's courageous and authentic. I love her not only for her music, but also for she makes her own videos, album covers and costumes. She creates her own universe and draws the listener into it. I never had the chance to see her live but I dreamed about going to her gig one day and getting sucked into her multicolored, polyphonic and chaotic world. This had to be in an underground station with cables, sewer pipes, crowds, congestion and chaos instead of a glittering stage. That makes her even bolder for me. I hope you can imagine her like that as well.

Ozan Aktuna, Melvins @ CRR

Although I'm not mad about Melvins' other albums or that genre in particular, I really like Houdini. I tried to keep the band's humorous attitude and Americana mood while I designed the poster. Instead of an open air festival with 50 other bands, I wanted to see them in a one-off indoor gig at CRR, sitting down and with a setlist dedicated to Houdini alone. Maybe one day this dream can come true, who knows.
Ekmel Ayar, Nick Cave & The Bad Seeds @ Said Al-Mishal Cultural Center (Gaza)
"I think the cultural boycott of Israel is cowardly and shameful. In fact, this is partly the reason I am playing Israel – not as support for any particular political entity but as a principled stand against those who wish to bully, shame and silence musicians."
This was Nick Cave's reply when he was called for boycott before his 2017 Israel gig. I felt a strong bond with his music and admired him for his stance against injustice. I found his unwillingness to shadow his art with social responsibilities confusing. For me, performing in Israel was just as a political decision as not performing there.
A year later, I had the chance to see him live for the first time in Istanbul, where I live. The show was an amazing experience that had a huge impact on me for months. A couple weeks later, I read that Said Al-Mishal (one of the biggest remaining cultural centers of Gaza) was bombed to ruins by Israeli army. As I was still under the spell of his Istanbul concert, this reminded me of Nick Cave's words about those who silenced musicians. Apart from the inexpressible massacre and injustice that has been taking place in Gaza for years, there was also a cultural destruction.
It's a fact that many different communities in different parts of the world have been suffering from continuous, systematic cultural genocide year in and year out. This cultural genocide is carried out in silence and subtlety against Aborigens in Australia, Nick Cave's hometown. As for Gaza, it is carried out with violence and blood against Palestinians. Under the reign of universal apathy, every day musicians are silenced, pianos get smashed, cultural venues are destroyed, artists are killed or suppressed.
Thinking about all these, I found myself dreaming about this gig that would complete Nick Cave's words. I wanted him to perform at this auditorium, on August 9th 2018, the same day it was destroyed, against everyone who silences musicians and art… and I made this poster.
Selin Çınar – DJ Rashad @ Boiler Room Istanbul
I find DJ Rashad's music and production abilities very unique. He revolutionized the scene in Chicago. I would really love to see him on Boiler Room if he was alive. I clearly remember the first time I heard his songs. I thought they were very different and got really excited. Generally, I love the dance rhythms and the colour of his music.
Selin Birben – Sting @ Kuruçeşme Arena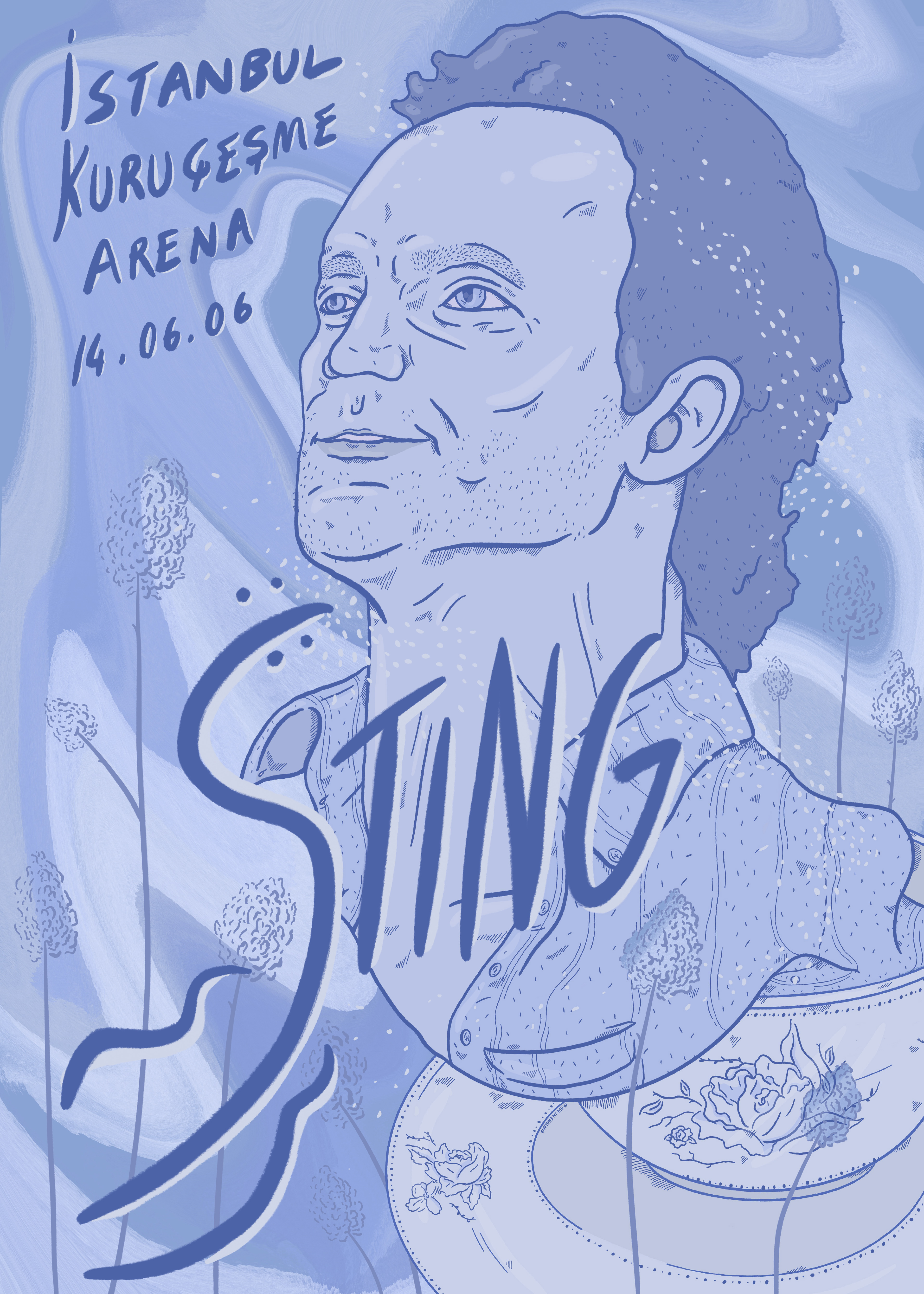 Sting was one of the most inspirational figures for me, when I first started music. I've always wanted to watch him live but I never caught one of his gigs. Then one day my mother told me that she and my father took me to a Sting concert in 2006. So I wanted to design a poster for that gig, for the concert that I've been to but don't remember. The tea cup on the poster comes from the classical English tea sets.
Kübra Su Yıldırım – Tinariwen @ ÂLEM-İ MİSAL
They blend blues, rock and folk music and serve their art in a tea cup. It's like they hold the past and the future in their hands and salute them in the present. Their rebellious fire, their persistence of self-seeking, their will to exist even in the toughest conditions got under my skin.
I hear mystical tones in their music, I see references to ayahuasca in their videos, I think they belong not only to this world but also to some unknown place. Holding on to this interpretation, I got the idea that they should be in another dimension. I dreamed of a gig in a dimension called "Âlem-i Misal" which serves as a bridge among the material and spiritual world. A concert that has started at an unknown moment and that will continue forever. I would really love to attend this gig; by way of sipping from the tea cup, falling out of a trance with booms and bangs or through an unknown kind of journey.
Büşra Üzgün – Everyone Dies @ Anywhere
At first I thought of designing a poster for a festival in memoriam of me. Like there is a festival after my death and everyone is having a wild time after me. Because of my surname which means "Sad" in Turkish, the attendees are wearing t-shirts with my sad face logo on them. 
After tackling a bit with this idea, I felt alienated from it. Instead, I designed a poster for a festival which has musicians who passed away in the line up. This event takes place in an unknown time and venue. You can go nuts and have fun like there's no tomorrow or you can be the frontman of a well known rock band… yet, "everyone dies". 
But still, don't be sad about this poster, just laugh off. With love.

Burak Şentürk – David Bowie @ Şanzelize Cafe
Since I was a child, I have been obsessed with building a bridge between reality and my heroes who helped me with my progress and who still accompany me in my life. When I was under the influence of American movies, for many years I waited for a background music to emphasize the important moments of life. Until the invention of Walkman. God bless you Sony.
This piece here, is an illustration of David Bowie, who is one of the most interesting and avant-garde figures I've ever seen, imagined in a counter-existence in Turkey's reality, in a parallel universe. In this context, I'll accept all lynching attempts from Bowie fans :)
Sercan Tunalı – Sigur Rós @ Mount Ida
I came across Sigur Rós on a program years ago. The video was called Vaka/ Untitled 1 Live. I was mesmerized  and I remember watching it over and over. When I listened to their other songs, I felt like I was migrating to Iceland. I even made an animation video for one of their songs. I had strong feelings about that state of mind. Years later a quote of a band member described my feelings in the best possible way: "It's kind of a safe haven for us, Iceland. We are left on our own here."
The documentary called "Heima" tells about the band really well. The word "Heima" means "home" in Icelandic. Sigur Rós do not take us away from our homes, they make us travel with our homes beside us. So we never yearn for the past with the feeling of "another place". The possibility of feeling both as a newcomer and close to home, hides in the mystic and epic themes of this music. May it be always near us, like a bedside book that smells good.
Burak Tozkoparan – Benjamin Clementine @ The Atlantic Ocean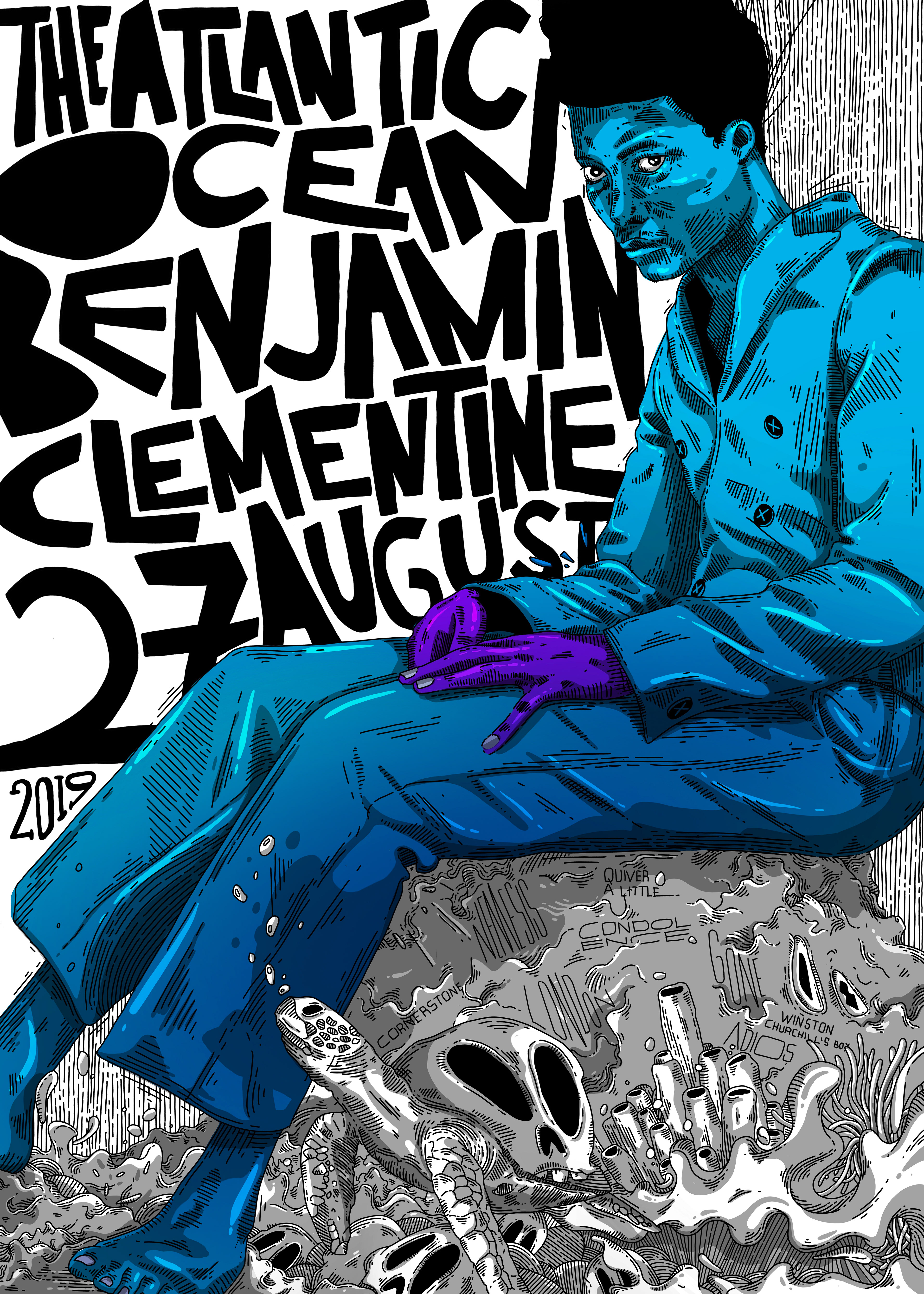 Between crowded thoughts of whose poster to draw, it wasn't very hard for me to decide on Benjamin Clementine, who massively inspired me lately. That decision was easy but where will the concert take place? Dinner at my place? Should he come to the agency on happy hour? Then I decided it should be in a utopian environment.
Last week I went diving for the first time in my life. It wasn't easy to overcome the fear but what I felt afterwards was completely different. The feeling after diving, blew away the stress that I felt earlier. That feeling was similar to what I felt listening to Benjamin. I said "That's it!" Listening to Condolence underwater… I could blend these two. But music, underwater? What do I know, is that the only problem? I just draw!
Pınar Ulus – Nina Simone & Thievery Corporation @ Butterfly Valley
Now that we're in summer, I couldn't help but daydream. If Thievery Corporation and "Mama Afrika" Nina Simone were to play in my favorite place in Turkey, in Butterfly Valley's amazing nature, I would promise to dance all the way, be very careful about keeping the beach clean and have white chickpeas with red wine.
Yaren Yavuz – The Knife @ Anahit Sahne
The moment I heard about the project, I knew I could only choose The Knife. Not just because I'm obsessed with their music and it gives me a constant desire to produce but also because they're the band that directed me to making music for the first time. They have always been very important to me.
That's why I wanted to illustrate the effect that they have on me. I pictured the band as this enormous, modern Kybele who draws the listeners to her and lures them. Strong and with no boundaries, never refraining from saying something new. I wish I could meet them someday and find courage to share my music with loved ones.
Emrah Tümer – Daft Punk @ Tatooine
One of the first ideas that came to my mind upon hearing about the project was to make a poster for Daft Punk. From the 90's on, they left a big impression on people with their music and costumes. I wanted to combine these unique musicians who look like they're from another planet with another part of popular culture that's been influencing people since 1977: Star Wars. (Of course I'm saying this based on the old series)
Thinking about the universal and unifying character of music, I thought why not go for a Galactic Festival? I imagined Stormtroopers, Ewoks, Wookies, even Darth Vader losing themselves to the beat and having a blast at Daft Punk's Tatooine gig. I tried to carry this to the poster. 
Please be our guest at the Galactic Festival in Tatooine. Signed: Emperor Palpatine
Erdem Yıldız – The Prodigy @ Hell
I remember watching the Firestarter video on MTV for the first time. It was the scariest video of my childhood. They were really making unique, dark, entertaining music that touched the deepest feelings. Now when I listen to their songs again, they take me back to my childhood and refresh my life energy. A band that pulls me round even in my most tired state, that calms me down if I'm angry, makes me happier if I'm happy.
The atmosphere in their concerts has always reminded me of hell. So I thought a concert in hell would fit such an energetic band. Keith Flint was a singer who proved that singing is related to the soul as it is to the tone. Thanks for the beautiful energy!